Asaro Farms | Organic, Castelvetrano Green Olives Spread | 7 oz (190g)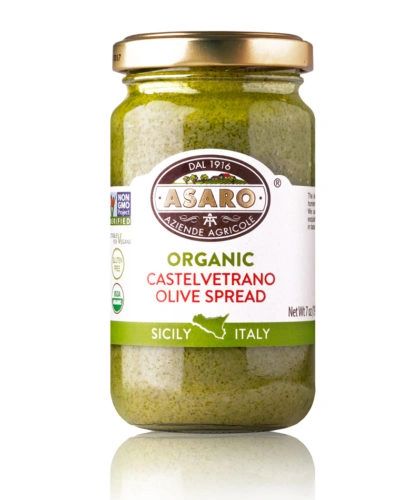 Asaro Farms | Organic, Castelvetrano Green Olives Spread | 7 oz (190g)
By far one of our best products!  This spread brings the essence of the Castelvetrano olive to absolutely anything in your home!  This rare, bright green olive is best known for its singularly unique buttery, sweet flavor.
ASARO Castelvetrano Olive Spread is blended with garlic and our best EVOO for a smooth sweetness that 
you can spoon and spread this on eggs, toast, salad, or pasta anytime of the day!

Produced from 100% sustainable Sicilian crops
Delicately harvested, and washed by hand on our farm
Freshly picked and jarred within four hours of collection
Conserved with the highest quality of Extra Virgin Olive Oil from ASARO FARMS
Chemical and GMO FREE
The Asaro Family have been specializing in homemade Sicilian products since 1916.  
Ingredients:
Green Olives (96.2%), Extra Virgin Olive Oil (3%), Sea Salt, Lactic Acid.