Asaro Farms | Organic, Castelvetrano Black Olives Spread | 7 oz (190g)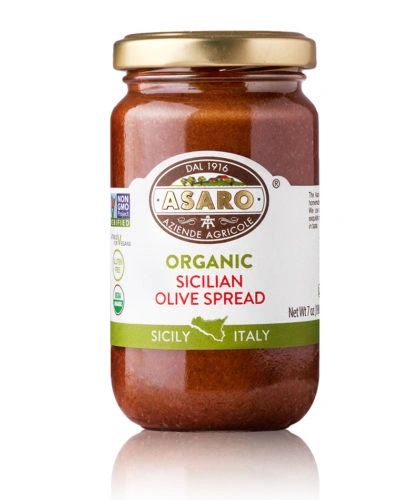 Asaro Farms | Organic, Castelvetrano Black Olives Spread | 7 oz (190g)
This is our special Black Olive Spread from the heart of Sicily.  Here we use our hand harvested Nocellara del Belice Black Olives and blend them quite simply with fresh sea salt and our ASARO Extra Virgin Olive Oil to achieve a truly savory, briney, and slightly bitter addition to anything it touches.
This spread is our only product composed entirely of black olives, making it the best option for anyone who craves a salty, smooth, and flavorful addition to their sandwich, salumi, or cheese plate!


Produced from 100% sustainable Sicilian crops
Delicately harvested, and washed by hand on our farm
Freshly picked and jarred within four hours of collection
Conserved with the highest quality of Extra Virgin Olive Oil from ASARO FARMS
Chemical and GMO FREE
The Asaro Family have been specializing in homemade Sicilian products since 1916.  
Ingredients:
Black olives (96.2%), Extra virgin olive oil (3%), Sea salt, Lactic acid.