Asaro Farms | Organic Extra Virgin Olive Oil | 750mL (25 FL OZ) Harvest 2018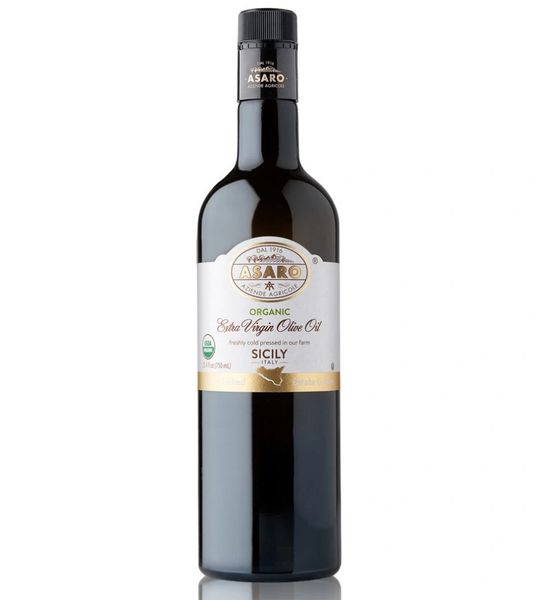 Asaro Farms | Organic Extra Virgin Olive Oil | 750mL (25 FL OZ) Harvest 2018
100% Organic Extra Virgin Olive Oil

Product of Italy
nocellara, biancolilla, cerasuola
This certified organic olive oil is comprised exclusively of Nocellara del Belice, or Castelvetrano olives grown and cultivated in the province of Trapani, in Sicily.
This is a truly high end, unique organic filtered olive oil because it is produced and press only once a year in October just after the harvest.  This oil is extremely versatile and perfect for use in any type of cooking. 
The family owned and operated farm presses and oil here that leaves the bottle with a very smooth and buttery flavor.  Elegant, and elevated in its flavor profile, on the nose this extra virgin oil leaves aromas of citrus flowers, artichokes, green tomato, almonds, sea salt, and pepper on the finish – creating a truly unique oil that reflects the essence of the Italian farmland it grows on.
This organic Asaro EVOO is excellent for dressings, marinades, dips, and sauteeing.  It is the perfect addition to any kitchen anywhere in the world!
Freshly cold pressed in our farm

Hand picked

Estate Grown

Ingredients: 100% Organic Extra Virgin Olive Oil

Non Gmo verified

Gluten Free

Keep in a cool, dry place away from light and heat